A Tornado WATCH means the weather can progress into more. This is the time to get prepared.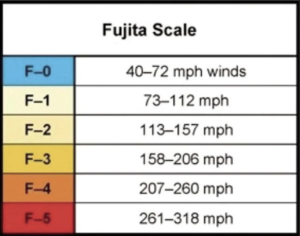 Do not wait for it to progress to a warning.  Winds, rain, and hail may pick up and make it difficult to walk to the office. Other projectiles may be flying.
PREPARATIONS:
Track the weather.
Download a weather tracking app like Tornado, KOLR Weather 10, or Code Red.
TV Weather channel: 10 & 25
         Weather Websites:
                 Click Here For LocalConditions.com                 Click Here For Branson 10 Day Weather
Charge your phones, preserve your battery & close all the windows leaving only your weather app open.
Be dressed: weather-appropriate shoes or boots, jackets, Rain Gear (or trash bag).
Identification: Name, Site #, phone, emergency contact.
Secure your camping gear so they don't become projectiles.
Never leave your awning out, winds pick up quickly here in the Branson hills.
Bring in your RV slide-outs to avoid damage from strong winds & rain. More aerodynamic too.
Fill your freshwater and gray tanks. This adds weight to your RV and you'll have water if it's shut off to the park.
Dump your black tank, not a fun mess to clean up if the RV or park has any kind of damage.
TEST sirens are usually on Wednesday around noon in good weather.
The office will be open during watches and warnings, come if and when you want.
Pack what you would NEED if your RV blew away. Have a go bag ready. Dress as if you may not have a roof in 10 minutes.
PACKING LIST SUGGESTIONS:
No bag? Use a pillowcase, pot, trash bag or can.
– Use a trash bag as a raincoat.
Keys: Vehicle & RV
Wallet or Purse, diaper bag, computer bag
Phone, computer & charging cords.
Medications / Supplements / Glasses / Toiletries
Women's sanitary items.
Food/snack, water
Travel Binder or Papers: ID, car registration, insurance papers, pet records, medical papers. Proving ownership is 9/10's of the law.
Valuables / Jewelry / Sentimentals
Change of dry clothes, rag to dry off from rain.
Head protection. Most deaths are caused by head trauma from tornadoes. A pot, can, or bucket helps.
A blanket for protection and warmth or comfort on the concrete floor
KIDS Comfort item: toy, blanket, pillow.
Entertainment: tablet & headphones, coloring book & colors, game. Something to pacify the time.
Snack & Drink.
PETS: Leash, Medications, Food & water, Papers, kennel, muzzle if not kid or pet friendly.
What to do now!
When sirens are roaring seek solid shelter immediately.A tornado WARNING means that a tornado has been spotted in the area.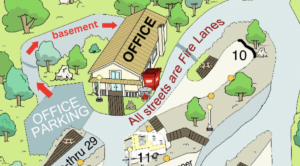 Come to the OFFICE. (Our only building in the center of the park.)
Come to the office as early as you want & check in at the counter. We need to know who is here and who else we need to call.
Bring your go bag; papers, meds, phone, snack, water, valuables, keys, wallet, etc.
Fill out an orange name tag with your name, phone, emergency contact, & site # and tape it to your shirt. This is if we need to identify your body.
The TV will be on to watch the weather in the office studio "clubhouse".
Do not block the office hallway, we need to get thru. Move to another room or bathroom hallway.
Kids can go in the closet under the stairs, and we may have a tablet with cartoons to distract them.
If you want a more private area to wait, the laundry room & restrooms are available.
Pets are welcome in the office. If they are aggressive, please take them to the laundry room or a bathroom.
Towels to dry off, and a hamper are available if needed.
Office level: the safest place is the restroom hallway.
Keep all doors closed.
Do not crowd the office hallway.
Stressed pets & people can wait in the private laundry or bathrooms if desired.
The garage basement is the lowest shelter. Do not compromise everyone's safety by coming last minute, the door will likely be screwed closed!
To get to the basement, go to the left of the main building down the driveway. Watch your step with the speed bump halfway down the hill.